Winterville - Coopers Pointe
Homes for Sale in Coopers Pointe Winterville, NC
Homes for Sale in Coopers Pointe Winterville NC are located just off of Ange Street within the Winterville City Limits and just off of Laurie Ellis Road. There are many options available for buyers in the neighborhood from New Construction to resales dating back to 12 years. The new homes feature a combination of vinyl siding, stone and vinyl shake accents on a traditional architectural home style. All of the new homes have large garages and many homes have small covered porches. The floor plans are 3 or 4 bedroom options either in a single-story and two-story configuration. Two plus car driveways of concrete are the standard.
Winterville has a population around 10,000 residents and retains small town charm and character. Home to events such as the Annual Watermelon festival in the Fall, Winterville offers a great atmosphere and also has an established parks and recreation department that is home to 4 baseball fields and an outdoor amphitheater where concerts and movies in the park events are hosted. 
Price range - $130,000 to $275,000 
Size range - 1,100-sf to 3,200-sf 
Average Lot Size - approx 1/3 of an acre
School District: W H Robinson Elementary, A G Cox Middle, South Central High School
Access Winterville area school reports here.
These homes are eligible for 100% USDA financing for qualified buyers. Get Pre-Qualified for a mortgage.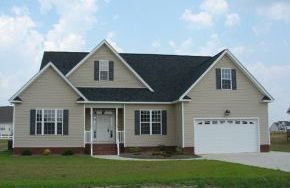 Recent Home Sales in Coopers Pointe Winterville NC
Community Information for 28590 - Coopers Pointe
Gain valuable insight into a community by looking at household incomes, crime risk, education levels attained, and potential for extreme weather. Use the map to locate points of interest like shopping, restaurants, and healthcare services.
Market Insider Analysis for Winterville NC - 28590
The data on this page is consolidated from multiple sources and includes current listings, recent sales, and more. Whether you're a buyer or seller, the knowledge you gain will help put you in control of your real estate transactions.
Connect with us:

Winterville - Coopers Pointe Properties
$213,725
Average Listing Price
Find a Home in Winterville - Coopers Pointe
More Neighborhoods
Winterville - Coopers Pointe
KWLS listings last updated Jan 21, 2021 8:05:pm.